Intel's response to the output of AMD Ryzen 4000 mobile processors did not take long. The competition with Renoir 7nm APU will be 45-watt Core 10th generation chips, known under the code name Comet Lake-H. These CPUs contain up to eight cores on a Skylake-like microarchitecture and are manufactured to improved 14nm standards.
The main difference between Comet Lake-H and the Coffee Lake-H Refresh released a year earlier is the increased operating frequencies. For example, the 5-gigahertz Turbo Boost mark can conquer not only Core i9, but also Core i7. Short specifications of the new processors are available in the table.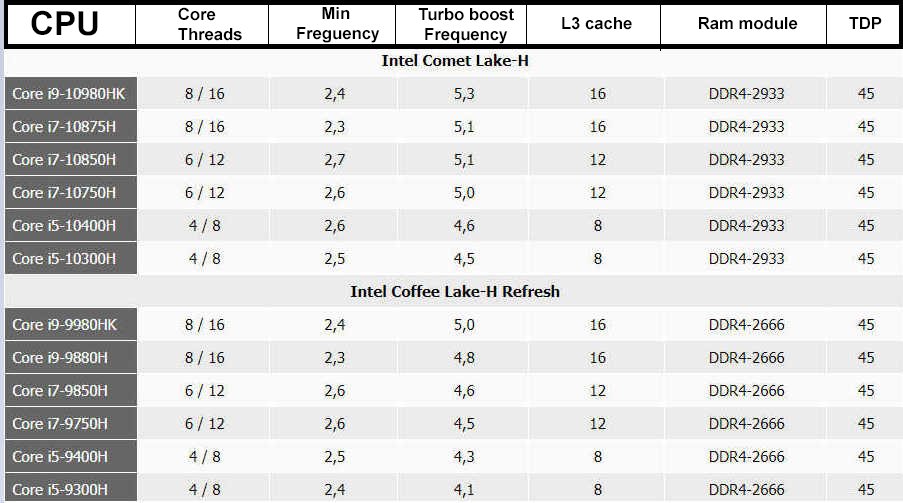 Intel's flagship Core i9-10980HK is proud to be called "the fastest mobile processor in the world". It has eight Hyper-Threading enabled cores, an uplinked multiplier, 16 MB of L3 cache, a dual channel DDR4-2933 controller. The operating frequencies of this "stone" are in the range from 2.4 to 5.3 GHz.
Curiously, Intel's marketing materials compare it to three year old enthusiast class computers, claiming a one-and-a-half speed advantage. No wonder, because only three years ago CPUs for mass Intel LGA1151 platform were operated with four cores.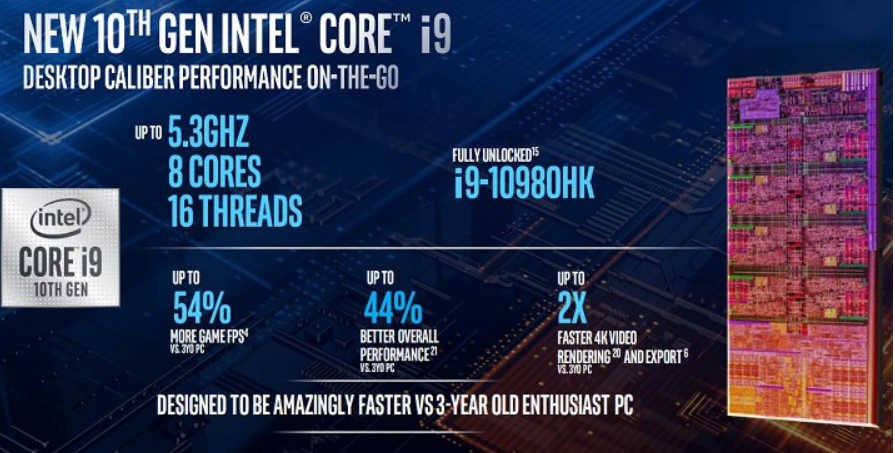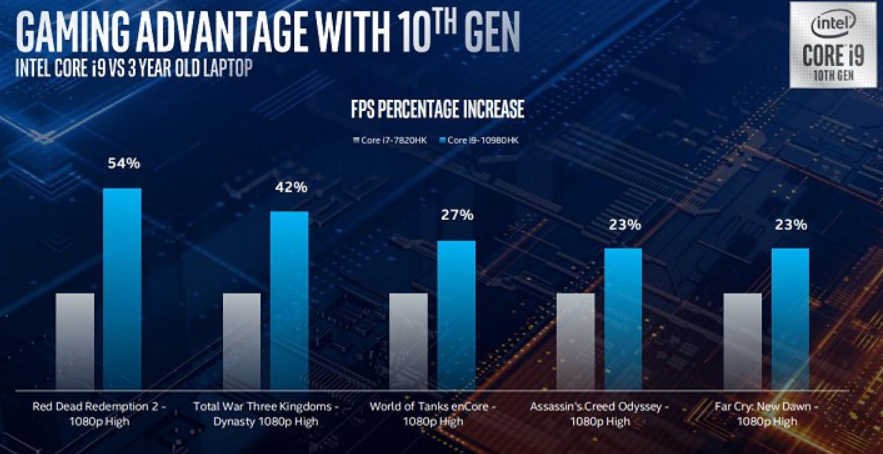 Meanwhile, in games Core i9-10980HK provides 23-54% higher frame rate than Core i7-7820HK (4 cores/8 threads, 2.9/3.9 GHz), and the superiority of Core i7-10750H over Core i7-7700HQ (4 cores/8 threads, 2.8/3.8 GHz) is 31% to 44%.
Gaming notebooks with 45-watt Intel Core 10th generation processors (Comet Lake-H) will be available for purchase in the coming weeks.