Before Intel launched the Comet Lake desktop processors on the market, the latest information about their successors surfaced on the Web. The Rocket Lake-S family will bring with it not only a new line of system logic sets but also a fresh microarchitecture along with the Xe graphics core. According to the web resource VideoCardz, he received this information from an informant in the ranks of the chipmaker.
The source does not undertake to say which architecture will form the basis of the 11th generation Intel Core processors. The most likely candidate is Willow Cove, developed for the 10nm Tiger Lake-U chips. She is the successor to Sunny Cove, used in 10-nm solutions of Ice Lake, and should bring a noticeable increase in the number of instructions executed per clock (IPC). Recall that when switching from Skylake to Sunny Cove, the increase in IPC was 18%.
The number of physical cores, according to preliminary information, will be limited to eight. This is explained by Intel's desire to get out of the "core race", returning to increased processor speed due to architectural improvements. The nominal heat package of the flagship CPU Rocket Lake-S will remain the same as the 10-core predecessors (125 W), which indirectly confirms the use of the 14-nm process technology.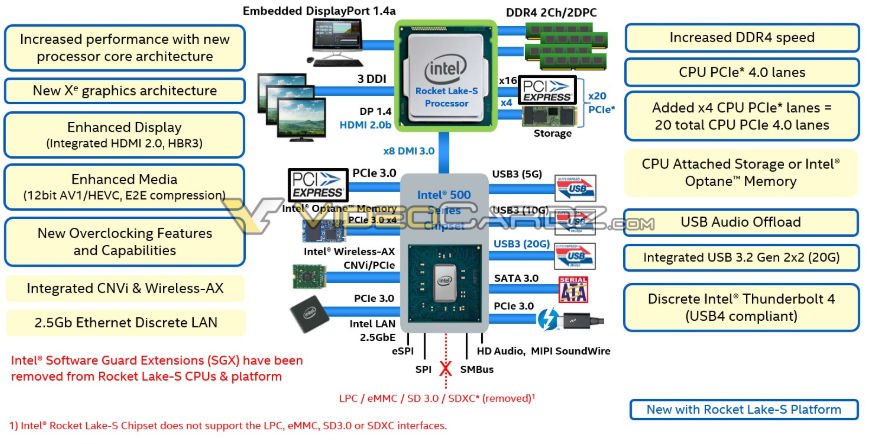 Rocket Lake-S processors will work with DDR4 memory in dual channel mode and will receive an integrated PCI Express 4.0 controller with 20 lines: 16 for a video card + 4 for an NVMe drive. Integrated graphics will migrate to the Xe architecture, akin to Intel's discrete GPUs. An enhanced video encoding/decoding unit will appear, as well as DisplayPort 1.4a and HDMI 2.0b ports.
As mentioned above, the 11th generation Core processors will be supported by motherboards based on Intel 500 series chipsets. Moreover, eight lines of the DMI 3.0 interface are used to connect the CPU and the logic set, while Comet Lake-S and the actual Coffee Lake-S Refresh are content with four. This feature will certainly affect the backward compatibility of the 10th and 11th generation Core within the LGA1200 platform. It is also possible that Rocket Lake-S will receive a new socket.
In the chipsets of the 500th series, Intel intends to significantly increase the throughput of integrated controllers. Motherboards based on them will support 2.5-gigabit Ethernet, Wi-Fi 6 (802.11ax) wireless modules, as well as USB 3.2 2×2 and Thunderbolt 4 ports. Vendors can allocate up to 24 PCI-lines for the needs of other devices and expansion cards. E 3.0.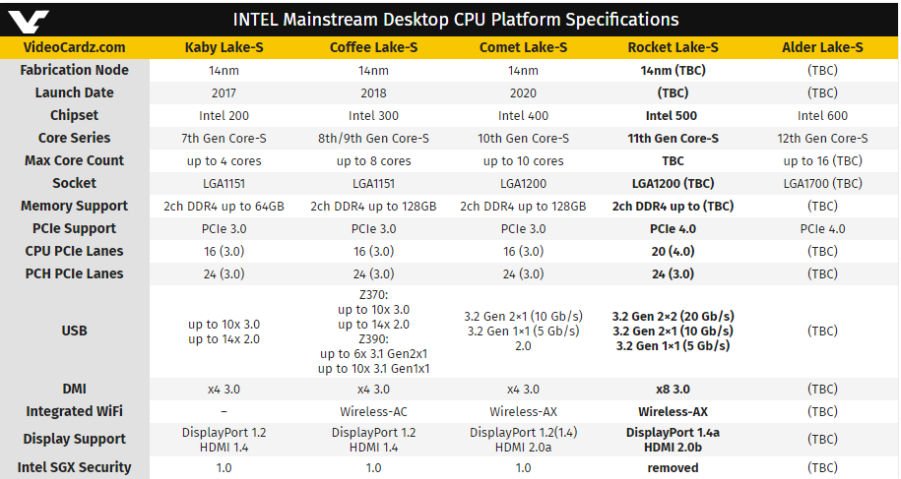 Considering that Intel still has not announced the mass platform LGA1200 and Comet Lake-S chips, the release of 11th generation Core processors (Rocket Lake-S) should not be expected before mid-2021.