Soon, Nvidia can expand its Turing graphics range with the new version of the GeForce RTX 2060 equipped with an 8GB GDDR6 video buffer. This video card will occupy a niche between the original GeForce RTX 2060 and GeForce RTX 2060 Super, and will further aggravate competition in the middle segment of gaming graphics cards.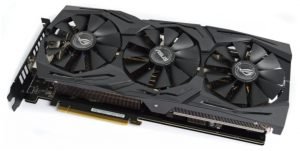 The GeForce RTX 2060 was released by Nvidia in mid-January 2019 with a recommended price tag of $ 350 and represents an "entry ticket" to the world of ray-tracing games. The TU106 video chip was truncated to 1920 CUDA cores, 48 ​​ROP, 240 tensors, 30 RT-cores and communicated with a 6-gigabyte GDDR6 buffer via a 192-bit bus.
Last summer, as part of the GeForce RTX Superseries, we met with the GeForce RTX 2060 Super. By and large, this card was much closer to the GeForce RTX 2070 than to the GeForce RTX 2060. The number of CUDA cores increased to 2176 units, rasterization units to 64 units, but, more importantly, the memory bus grew to 256 bits, and the total volume of GDDR6 chips was 8 GB.
Now, in the base of the Eurasian Economic Commission (ECE), ASUS ROG Strix RTX 2060 Evo Gaming cards with a video buffer of 8 GB were noticed. Meanwhile, Bethesda updated Doom Eternal system requirements yesterday and also indicated the GeForce RTX 2060 8GB for 1440p resolution and high quality. Because the recommended price of the GeForce RTX 2060 Super is $ 400, and the regular GeForce RTX 2060 has recently fallen in price to $ 300, the new product can just fit between it.