You may have a problem when the program you are trying to run is corrupted or even missing. In this case, Windows will not be able to run the file properly, and the operating system will generate an error not a Win32 application. Usually, the error is that the executable file is not a valid 32-bit application, so it is immediately clear that we have a big problem. But do not worry, because there are ways to get everything back on the right track. Perhaps at the time of loading the program, the executable file was damaged or the download did not complete, or it may be incompatible with the version of Windows you are currently using. Perhaps this is due to the source from which the file was downloaded. We always recommend downloading executable files from the main source, if possible.

Related post : HOW TO EXTRACT FILES FROM CORRUPTED ZIP ARCHIVES
How to fix if the program is not a Win32 application
The first thing to do is to remove the program and download it again from the official source. This time, make sure that the file download is 100 percent complete before attempting to install. Now, if you have a program CD, then it's a good idea to try installing it from this physical media. Yes, we know that most people today do not use physical media, but for those who still live in the hardcore past, this option is for you. What to do if the program is already installed, but can not run?
In the scenario, when you have problems with an already installed program that has worked before, make sure that it has not been removed. We aim to launch applications from a shortcut, and there are times when the file is deleted, the shortcut remains.
Check whether you are dealing with a damaged hard drive. This may cause the application to crash. In such a situation, I recommend defragmenting and checking the disk for errors.
If this didn't help, you are dealing with a bad file. Any file association can be changed to .exe. Make sure that if you download the executable file, this is always the extension at the end of the .exe.
The file is not associated with the desired program.
When it comes to the Windows operating system, each file extension is associated with a program. Be it .exe, .jpg, .png, .txt, .zip, etc. They need a default program to open them. Perhaps you are dealing with a situation where the wrong program is assigned, and therefore it is reasonable to check if this is the case and make the necessary changes. Let's take a look at how to change file associations in Windows 10.
Open Settings> Apps> Default Apps. Scroll down and you'll see a selection of standard applications for file types.
If you have not identified anything for yourself, you can click Reset, so that windows will restore the default settings.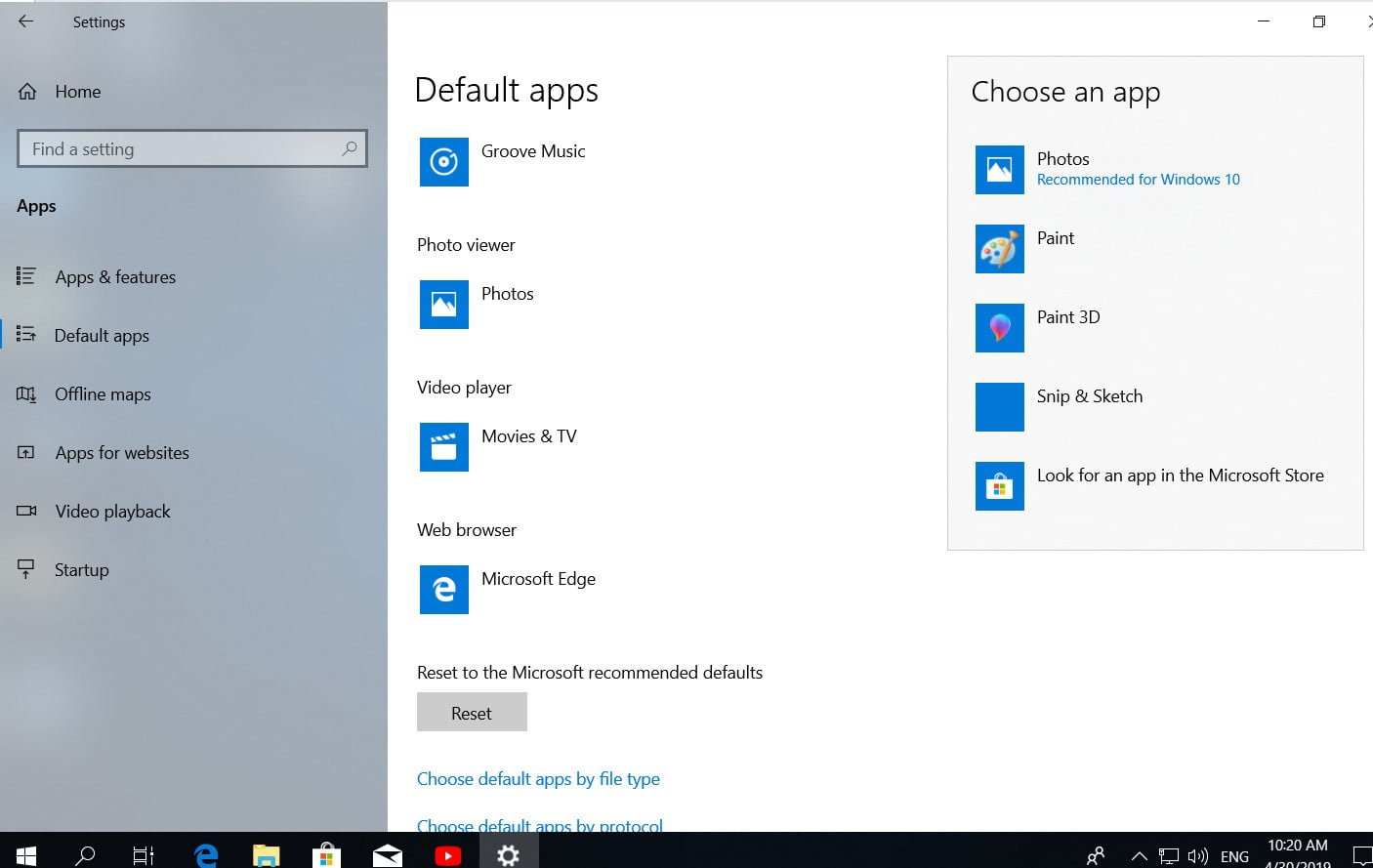 Related post : The best Android emulator on PC for Windows 10
Virus or malware problem
In the worst case, your computer is infected with a virus, worm, trojan, or malware. If this is the case, then your antivirus disarmed the malware that was sitting in the executable file, for example .exe, and you will not be able to start the program. In part, this is good news. Check your antivirus software to ensure that it has been quarantined, and take the necessary steps to remove it from your computer permanently. Write in the comments if nothing has helped you and do not know what to do, I will look for additional methods for your requests, and add them to the manual. Successes!