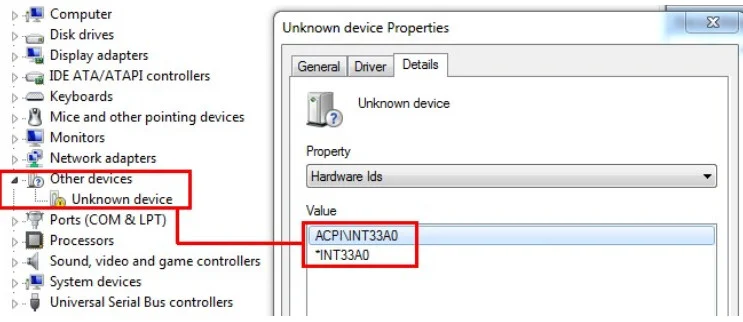 You may have noticed ACPI INT33A0 as "Unknown devices" in the device manager. Windows cannot recognize this item and designate it as known. This situation becomes a mystery to many users because they cannot identify it.
What is ACPI INT33A0 ?
Device Manager shows a list of devices installed in Windows 10, but sometimes you see a yellow triangle with an exclamation mark, marked as "Other device". In some cases, the device manager marks the device as Unknown Device if:
It does not contain the proper driver.
It has an unrecognized device ID.

This is a virtual device created by software. ACPI INT33A0 0 also shows its name Unknown Device, means that Windows can not identify it.



How to fix ACPI INT33A0  in Windows 10

Step 1 – First of all, you need to know the details of ACPI INT33A0 0. Double click on this Unknown device, and go to the "Details" tab.
Step 2 – Click on Properties to get a huge selection list and select the hardware ID or Path to the device instance. Now look in the "Value" field at the bottom and note the path, most likely you will see:
ACPI \ VEN_INT & DEV_33A0
ACPI \ INT33A0 \ 0
ACPI \ INT33A0
INT33A0, These hardware identifiers are associated with the Intel Smart Connect Technology Driver. This technology allows you to regularly update the software package, in sleep or standby mode.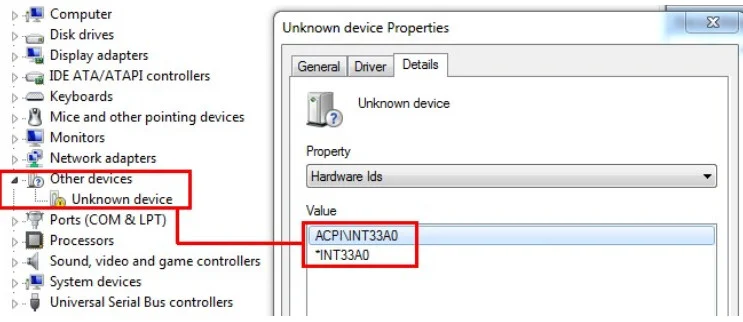 Download and install the ACPI driver INT33A0

After you download and install the ACPI INT33A0 0 driver, the recording of an unknown device will be lost. Here you have 2 options – you can download the software from an authorized Intel webpage or manufacturer.
From the official site of Intel
Step 1 – Go to this page and click on Intel® Smart Connect Technology 5.0.exe (or whatever version).
Step 2 – Wait for the process to complete and install the driver, following the instructions on the screen. Restart your computer or laptop, and make sure that the "Unknown Devices" entry has disappeared from Device Manager.
From the websites of manufacturers
You can get the same driver from the manufacturer of your computer, laptop, but the main task is to find a web page.
ACPI INT33A0  Dell
If you have a Dell laptop, go to the driver web page, then get the ACPI \ INT33A0 software using the download file. The package is available for Windows 10, 8, 8.1 laptops equipped with 32 and 64-bits.
Note: Thus, you can fix ACPI INT33A0 on different manufacturers' laptops. If you have Sony, Asus, Acer or other companies, go to the official websites and download the correct driver.