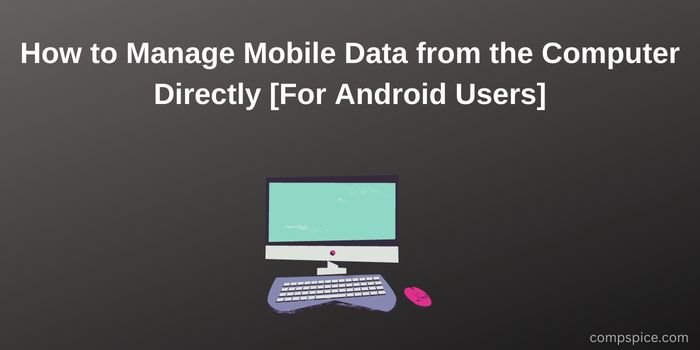 Android
How to Manage Mobile Data from the Computer Directly [For Android Users]
You can access your mobile data on a computer after establishing a connection between your phone and computer. That's far from new. But how about managing your mobile data on the computer, including editing contacts, installing apps, backup, restoration, etc.? If you can use a keyboard and mouse to organize and transfer your phone data on the larger screen of your computer, it will be more helpful and convenient for you, right?
Manage Mobile Data from a Computer via Coolmuster Android Assistant
As you know, iTunes or Finder can help iOS users to manage their data on iPhones/iPads, but neither of them supports Android devices. So, how can we manage Android data from a computer? Then you can utilize this manager – Coolmuster Android Assistant. This software has an extraordinary capacity for data management.
With it, you can manage most Android data types, like apps, videos, music, contacts, SMS, and more. Besides, it can connect your Android gadget to a computer via USB and Wi-Fi, which gives you another way to connect. Let's go ahead to get detailed info on this software.
Manage Contacts, Call Logs, and Text Messages
Contacts and Call Logs
For contacts, this software has an edition feature so that you can directly edit your contacts on your computer. You can modify the contacts' names, phone numbers, email, addresses, and groups. Also, it can help you export your contacts to different formats, like CSV, HTML, BAK, VCF, and XML. What's more, you can export and import Outlook contacts freely.
It allows you to create new contacts on the computer as well. As for those useless contacts and call logs, you can select and delete them swiftly. All the modifications will be synced on your Android device.
Text Messages
Is it possible to send SMS on a computer? If you choose Coolmuster Android Assistant, you can do this without effort. Furthermore, you can mass send messages by choosing your contacts, receive, and reply to SNS on the desktop. This handy function enables you to check and deal with your messages in time when working with the computer.
Organize Photos, Music, Videos, Books, and Apps
Coolmuster Android Assistant is also good at organizing media files. Your photos, music, videos, and so on, are all supported by this software.
First of all, with powerful compatibility, the program supports most file formats, such as JPG, JPEG, PDF, EPUB, TXT, PNG, MP4, MP3, APK, etc. It will display all the detailed media files by category on the interface, so you can selectively delete, import, and export them.
Photos and Music
Secondly, you can manage picture albums on the computer, and then copy/move the specific photos to your albums. For those unwanted images and albums, you can remove them handily. Also, you can make new playlists to organize your songs and other audio files.
Videos and Books
Thirdly, managing your books and videos is also effortless. It can fast scan and list your e-books, movies, MV, TV shows. Then you can transfer them to your computer with original quality. If you don't need them, you can eliminate them in 1 click.
Apps
Certainly, you can install apps from your computer to your Android device, as long as you have downloaded APK files. Another highlight is to uninstall apps simultaneously. You can tick off your user apps and remove them together. Then they will disappear from your mobile phone.
Back Up and Restore Android Mobile Data in 1 Click
Does backup become a regular thing in your life? Anyway, data backup can protect us from suffering data loss. Thus, it is necessary to back up your Android files. Luckily, Coolmuster Android Assistant supports Android file backup.
You can transfer all files from an Android smartphone or tablet to a computer at a time. No matter how many files are stored on your Android device, it can complete the backup seamlessly. By the way, you can opt for the desired file types before the backup.
Also, when you need the backup files, you can restore them to your mobile device without restrictions. The data you restored will not overwrite the current files, so you won't lose any data.
Wrapping Up
Given space constraints, we cannot tell you all the management features of Coolmuster Android Assistant. If you want to know more about this software, go to its official website and give it a shot. Then you can smoothly manage your mobile data on your Windows/Mac computer.