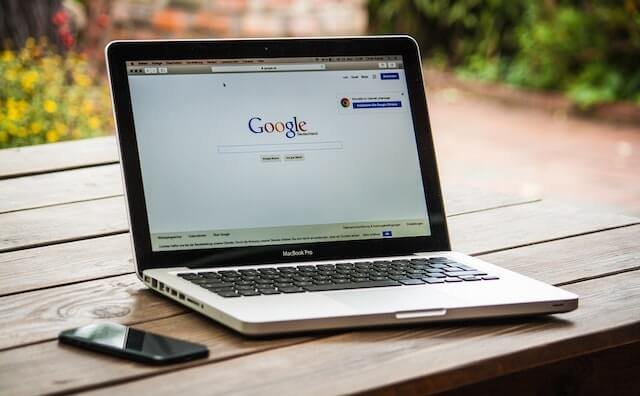 SEO is one of the key ways to promote a business on the Internet, allowing you to bring your site to the top positions in search engine results and get ahead of your competitors. Like other marketing areas, SEO is rapidly evolving, and effective optimization trends change regularly. To keep the site at the top of search results, specialists need to keep abreast of events: follow trends, adjust settings, update and supplement content with current requirements.
OK Web Studio (https://okwebstudio.com) specialists have prepared the most relevant SEO trends for 2023-2024, which should be taken into account when developing an "effective" strategy. Looking ahead, we note that most of them are already familiar to webmasters and continue to play a decisive role in promotion.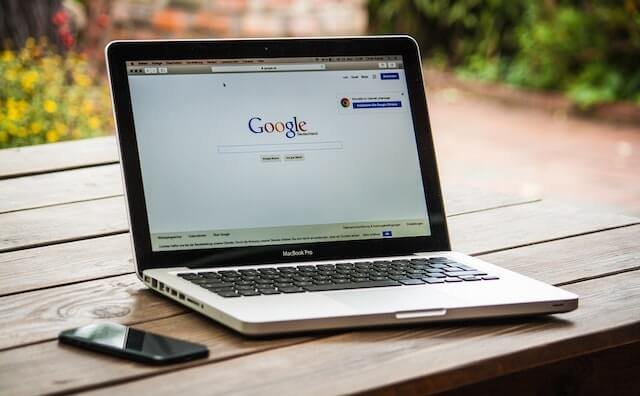 EAT Compliance
The concept of EAT (Expertise, Authority, Trustworthiness) is essential in SEO. The search engine uses these three elements to evaluate the level of trust in the site, provide users with the best online experience and the most reliable information.
Although EAT metrics do not play a decisive role in page rankings, they are an integral part of their display in the first positions. The system maintains trustworthy resources and will only continue this trend in 2023. You can increase the authority of the site in the following ways:
publish only high-quality, well-designed and useful content, supplement it with illustrations;

check the accuracy of data and linked external links;

provide information about the authors of publications;

post positive customer reviews and successful cases;

regularly update information about the company and check the relevance of contacts.
Also, Google will consider your site more authoritative if other experts and web resources leave their recommendations and links to it.
Website adaptability for mobile devices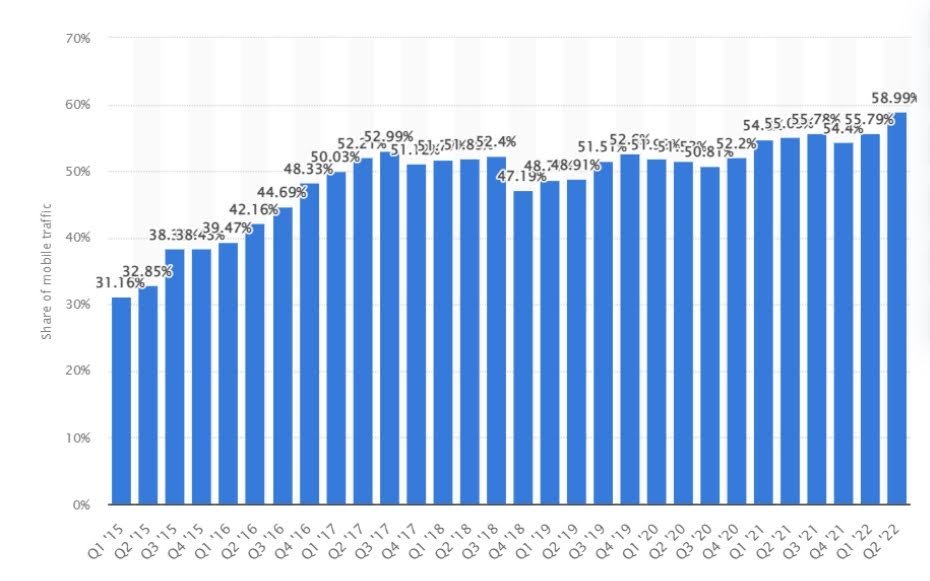 According to Statista, mobile devices account for 58.9% of the world's website traffic. On the graph, we see how the indicator increases from year to year and 2023-2024 will not be an exception, so adapting resources to different resolutions and OS of smartphones is the key to high-quality SEO promotion. The easiest way to find out how user-friendly a site is to enter the query Google Mobile Friendly Tool into the Google search box and add the URL you want to analyze.
Before improving the performance of your site on mobile devices, make sure it is built with responsive code and a framework. Page loading delays can be minimized by using a CDN and image compression. Accelerated Mobile Pages (AMP) will also help in optimizing in terms of adaptability.
Artificial intelligence
RankBrain Algorithm
RankBrain is a machine learning system launched in 2015 that helps Google better understand users' intent in search queries and provide them with the most relevant information. RankBrain adjusts the results by looking at the current query and building on previous ones based on their performance. For example, it may display results without the exact words in the query. For example, for a search for "Height of an architectural monument in Paris", Google immediately "understands" the user's intent to learn about the Eiffel Tower and provides relevant information, despite the fact that its name does not appear in the query.
When creating content optimized for RankBrain, first of all, you need to focus on what your target audience wants to see when entering a specific search query. Popular keywords in meta tags and texts will be useless without understanding the main purpose of users.
BERT algorithm
In 2019, Google presented an updated BERT algorithm, a machine learning technique for training natural language processing based on a neural network. It has become a real revolution in how the search engine processes requests now. So, Google has even more opportunities to determine the context in queries, interpret them better and return relevant results.
For example, previously Google interpreted queries word by word. With the advent of the update, the system can analyze the entire phrase and read the text in the search line as a person would do: the whole thought, not individual words. BERT is another clear confirmation that the method of entering a large number of keywords and texts that are unnatural for people no longer work and only reduce the search ranking of a web resource. There is no need for specific optimization for the algorithm, the main thing to understand is that the context plays a decisive role.
BERT has not replaced RankBrain, but complemented it. Google uses several methods to understand a query. This means that BERT can be used alone or in combination with Rankbrain or other algorithms, depending on the nature of the search phrase.
Content value
Structured and updatable texts are essential for SEO promotion. But they just can't do it. In 2023, content must clearly, accurately and comprehensively respond to user requests, offering all known solutions to the problem. Otherwise, the pages of your site may not appear in the search results, even if there are enough keywords in the text.
If the content takes into account the motives for information search, the user will get a positive experience of visiting the site and is more likely to get acquainted with the content of the page to the end. Accordingly, search engine robots recognize such a site as useful for the reader, which contributes to the increase in positions in SERP, its getting into Featured fragments or the "People also asked" block.
Texts must be supplemented with visual content. With the help of infographics, images, videos, you will get more traffic and improve the usability of the resource.
Visual search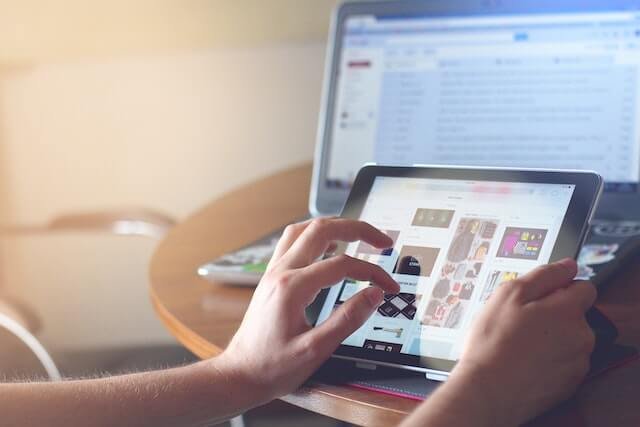 Visual search on images and videos will only gain momentum. This is due to the rapidly growing popularity of "visual" social networks – TikTok, Instagram, Pinterest. Another reason is the simplicity and convenience of the method to find the right product or service. For example, you can quickly take a product photo on your smartphone in an offline store, upload it to the Google feed and learn more about it.
To stand out from your competitors, optimize your site for visual search: upload high-quality images, add a thematic inscription and a clear description.
In addition, Google recently announced that traditional search will feature more visuals, including content from YouTube, Instagram, and TikTok, depending on the query.
Voice search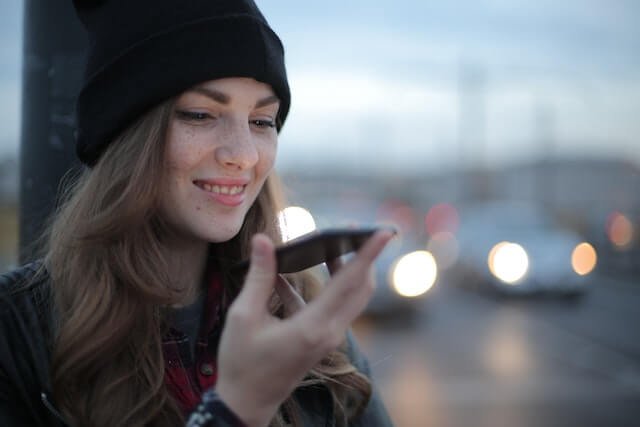 With the growing popularity of smart speakers, more and more people are using voice queries to search for information on the Internet. So, according to Google statistics, in 2022, about 27% of the world population uses voice search on mobile gadgets. The majority are US residents.
To make a web resource appear in search results for those who make voice requests:
use long key phrases, interrogative sentences in texts and meta tags;

add a block with F.A.Q.;

create more "conversational" content.
Website optimization for voice search should also be taken into account when setting the target. For example, add question keywords to advertising campaigns.
Video content
Today, video content is a huge element of the digital landscape. According to Cisco forecasts, by 2023 about 82% of the world's content will be in the form of video. Use videos to increase the ranking of your site's pages: the more interactions (views, reposts, likes, comments) your video has, the higher the chances of getting into the TOP in search results. In addition, the use of copyright video opens up an excellent opportunity to further promote your business through YouTube.
Local SEO
High rankings for relevant keywords, taking into account geographic features, has always been relevant for offline businesses, and this trend will not change in 2023.
The goal of local SEO is to improve search results based on the geographic intent of the user. For example, for those who want to find a digital agency using the query "digital agency near me" or "London SEO Agency", the search results will include only local companies, and not a general list of all those represented in UK. Local SEO is especially important for brands from the service sector (restaurants, medical centers, beauty salons, etc.), and people living nearby are the main segment of their target audience. To increase your customer base, register your brand in Google My Business – to display Google Maps by address, and connect your account to Google Analytics. Among the main factors influencing local SEO are real online reviews from current customers and site optimization for local keywords.
User Experience
The goal of knowing your customer better has long been one of the main points in marketing strategies. A positive user experience is also important for SEO optimization. A number of factors influence the improvement of interaction with potential or current customers:
thematic, informative and accessible (including for people with disabilities) content;

design adaptability;

fast loading pages;

convenient navigation;

compliance with fonts, colors, elements according to the brand book;

availability of an SSL certificate;

friendly URLs.
Is link building still relevant?
Building external links in search engines is an important ranking factor. To build up external link mass to be really high-quality in 2023, pay special attention to the selection of sites for placement – the fewer internal URLs it has, but at the same time it occupies high positions in the SERP, the more valuable your page becomes for search algorithms.
Conclusion
Over the past few years, search engine algorithms have become more complex, and just having a multi-page website and ranking for keywords is not enough to rank high in the SERPs. Create high-quality content that is valuable for your target audience, pay attention to photo and video content, increase the adaptability and convenience of the site for users. Keep up with new SEO trends to attract more customers and grow your business.
Bobby Chapman,
OK Web Studio SEO Expert