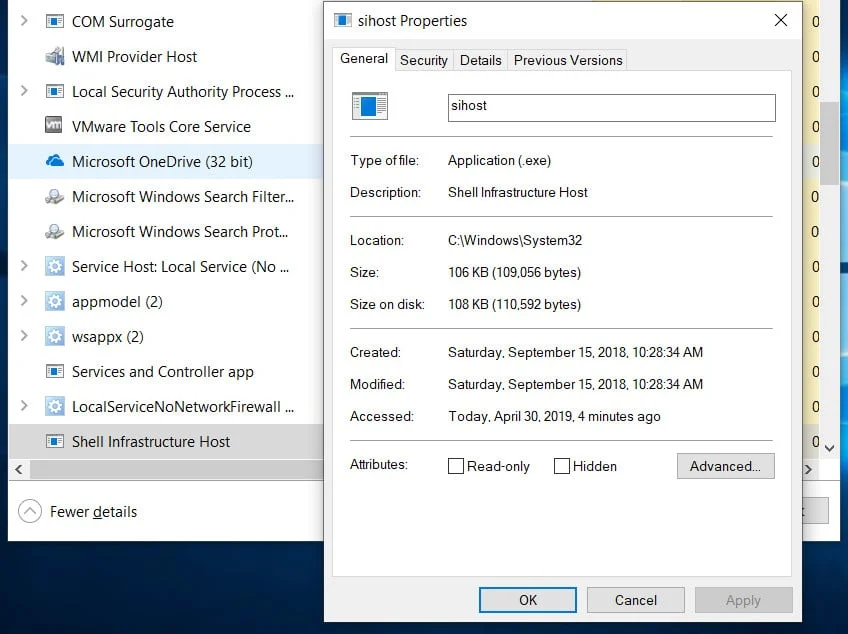 Sihost.exe in Windows 10, including the predecessors of Windows 8 and 7, is an executable file. This is the main system program located in C: \ Windows \ System 32. Now you may have a question: is sihost.exe in Windows 10 a virus? The answer is no. This is a completely safe Microsoft Windows program, but only a few malware developers intentionally give the same name to their files so that they cannot be detected.
What is the sihost.exe role?
SiHost.exe is an important executable and host of the shell infrastructure. The program launches various processes on Windows 10 to perform work such as opening the context menu, Start, action center, etc.
Is it possible to remove sihost.exe ?
Sihost.exe runs in the background, Windows 10 will allow you to complete the process in Task Manager, but be careful, as this may cause a critical Start menu error. In addition, you may encounter a failure of Windows and File Explorer (Explorer). Therefore, you should not delete and complete the process, because it will completely break the Windows shell.
What is a defective sihost.exe file in Windows 10?
Many technical experts do not consider this file a threat, however, the possibility of harming your device is quite high. An incorrect or outdated version of Shell Infrastructure Host or sihost.exe can lead to a slow launch of your computer or laptop, or the emergence of many error messages such as:
The First-Shell Infrastructure Host has stopped working (Get Critical error in the Shell Infrastructure Host).
The resulting problem led to the termination of the program.
Access violation of the FFFFFFFF address in the sihost.exe module and reading the address oooooooo (unknown hard error).
Properties and Values ​​Sihost.exe
File description – Shell Infrastructure Host.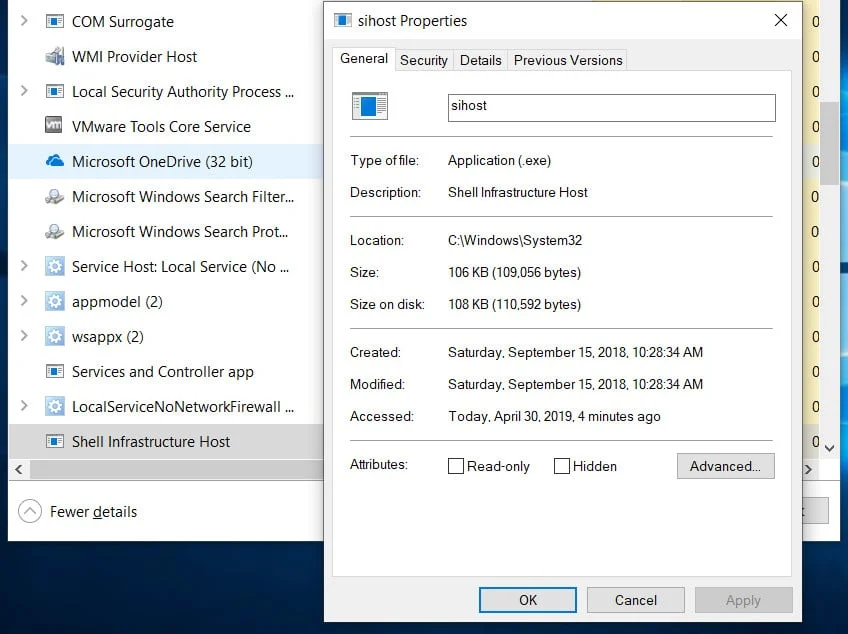 Copyright – Microsoft Corporation.
The size is 106 KB.
Language – English (US).
The original file name is sihost.exe.
Related :
LSASS.exe: what it is and how it works in Windows 10
SMSS.EXE – WHAT IS THIS PROCESS IN WINDOWS 10
How to determine if sihost.exe in Windows 10 is malicious?
If malware exists with a name Sihost.exe, you can easily distinguish it from the Windows source file. Suspicious Sihost.exe will not have any information in the properties. Go to the task manager and look for Shell Infrastructure Host in the Processes tab, or go to the details tab and find sihost.exe itself. Next, right-click on Shell Infrastructure Host or sihost.exe and select "Open file location." You should be transferred along the path C: \ Windows \ System32 with the highlighted Sihost.exe file, if so, then this is the original file. If you find sihost.exe in a directory other than C: \ Windows \ System32, you must take care and remove it manually.