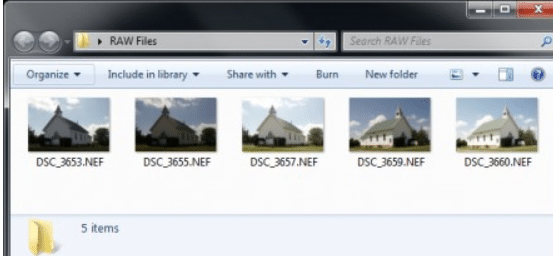 Many happy owners of SLR cameras prefer to shoot not in the compressed JPEG format, but in the RAW format. By RAW format is meant an unprocessed (i.e. "raw") image from the camera's matrix. Different manufacturers use their own RAW formats, usually even RAW file extensions may differ, for example, Canon has CRW and CR2, Nikon has NEF and NRW, Pentax has PTX and PEF, and so on. However, when working with Raw files in the Windows environment, there are a number of disadvantages, the main one being the fact that Windows 7 does not allow viewing these photos using standard tools. Therefore, to view the RAW in Windows 7, you had to install the software side, such as Adobe Camera Raw, ACDSee, Photoshop, etc.
For this purpose, in July 2011, Microsoft released the free Microsoft Camera Codec Pack, which is designed to provide support for the RAW format in Windows 7 and Vista. This codec pack contains information about RAW files used by cameras from more than 120 models, including Nikon, Canon, Pentax, Sony and Olympus DSLRs.
If before installing this package, open the folder with photos in RAW format created by my Nikon (extension .nef) in Windows Explorer, the result will be the following: previews are not generated and you cannot view photos using standard tools.
After installing Camera Codec Pack in Windows Explorer, it becomes possible to view preview icons for RAW photos, and the standard Windows 7 image viewer will also open and show such photos without any difficulty.
View RAW files in Windows 7
Camera Codec Pack can be installed on Windows 7 and Windows Vista with Service Pack 2, depending on the bitness of your OS, you need to install the 32 or 64-bit version of the package.
Installing the Camera Codec Pack will allow you to open and view RAW format files in Windows, however, there are several limitations:
• Not all camera types are supported: a full list of supported devices can be found on the Microsoft download page.
• To generate thumbnails in the explorer, you need to open at least one picture in the Picture Viewer, and the time for generating such previews is usually quite long.
• In my opinion, the time it takes to open a file in the Windows Viewer (Picture Viewer or Windows Live Gallery) takes a bit longer than, for example, in ACDSee or Photoshop.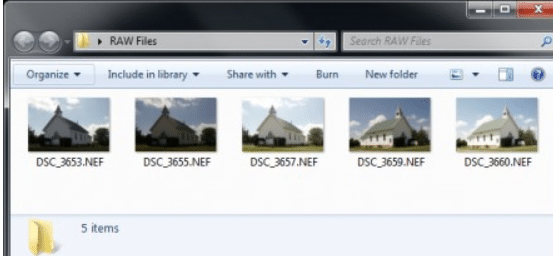 Related post : How to create software RAID in Windows