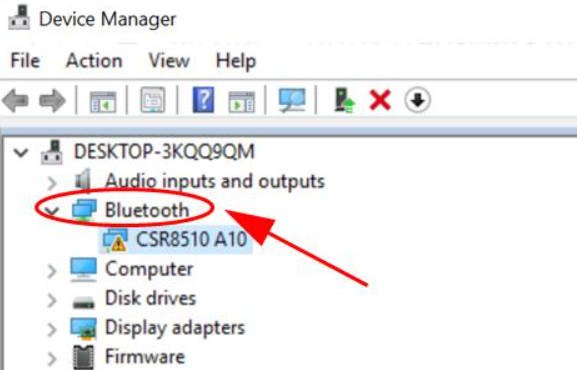 Widnows 10 may lose the ability to connect via CSR Bluetooth, which is usually intended as a radio receiver and is used to connect a wireless keyboard or mouse.Bluetooth settings may disappear and an exclamation mark error appears in Device Manager that refers to issues with the CSR8510 A10 driver. If you go to Windows 10 device settings, then Bluetooth will be marked as "Driver not available" or "Driver error".
How to fix CSR8510 A10 Bluetooth driver error
1. Update Bluetooth driver
Press Win + X and select "Device Manager".
Expand the "Bluetooth" column and right-click on the device, then select "Update driver".
Then click on "Search automatically for update driver software." and follow the recommendations on the screen.

2. Installing the Generic Bluetooth Driver
Follow method 1, but instead of automatically updating the driver, select "Find drivers on this computer"> "Select a driver from a list of available ones." Next, select another available Bluetooth driver from the list. Certlibrary
3. Checking Bluetooth services
Press Win + R and type services.msc to quickly open services in Windows 10.
Find "Bluetooth Sound Gateway Service" and "Bluetooth Support Service".
Double click on the service, one at a time, to open the properties.
Click Stop if the service is running.
Select the startup type "Automatic".
Click "Start" to get the service up and running.
Click apply and OK.