Intel will launch Tiger Lake mobile processors next year. These CPUs will retain the 10-nanometer process technology, like Ice Lake, but will be carriers of the new architecture, both for the processor part and for the GPU.
This should provide a good performance boost on all fronts. And now we have the opportunity to approximately evaluate the capabilities of such CPUs.
A source published the results of testing an engineering sample of the CPU Tiger Lake-U. This is a quad-core processor with support for Hyper-Threading and a frequency of up to 4.3 GHz. Importantly, this CPU has been tested both in 15-watt mode and in 28-watt mode. The results were compared with the latest Core i7-1065G7 (1.3-3.9 GHz) in 15-watt mode.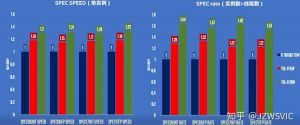 As you can see, a novice with an identical power limit is 15-30% more productive, which is pretty good considering the same number of cores. With an increase in the power limit, the novelty is already 30-60% faster. True, test applications are far from the most interesting in terms of real performance, but this is better than nothing.
Given that the engineering sample participated in the tests, it can be assumed that these CPUs will become even faster when they enter the market. But it should be borne in mind that the new product is significantly higher than the frequency, so the performance gain is due not only to architectural improvements.