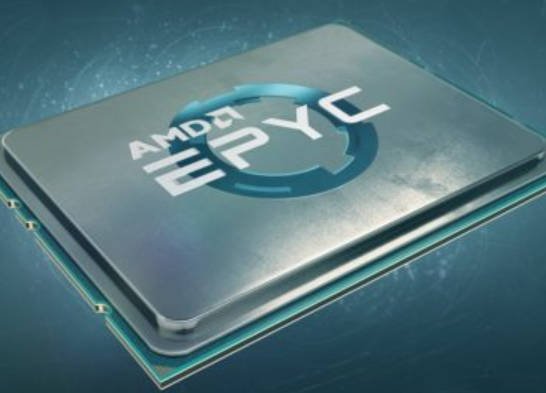 Simultaneously introduced 32-core AMD EPYC 7532
AMD today announced the release of two more models of AMD EPYC processors of the second generation.
At one time, the first 64-core x86-compatible server processor was released in the second-generation AMD EPYC line. The new model – AMD EPYC 7662 – has become the fifth 64-core processor in the second-generation EPYC line. According to the manufacturer, this model is "an excellent entry point to the 64-core market," because it provides access to the same high-performance Zen 2 cores as one of the world's fastest AMD EPYC 7H12 processors, but at a more affordable price.
This processor can execute up to 128 instruction streams. The base frequency is 2.0 GHz, the maximum is 3.3 GHz. The TDP value is 225 watts.

The second novelty is the 32-core AMD EPYC 7532 processor. Its feature is the presence of 256 MB of cache in the third level. This is the same as the second-generation AMD EPYC 64-core processors. The manufacturer believes the AMD EPYC 7532 is "great for cache-sensitive workloads," such as the ANSYS CFX. On average, in all ANSYS CFX tests, the performance of AMD EPYC 7532 is 111% higher than the performance of Intel Xeon 6248.
This processor can execute up to 64 instruction streams. Its base frequency is 2.4 GHz, the maximum is 3.3 GHz. The TDP value is 200 watts.
Both new models inherit all the advantages of second-generation AMD EPYC processors, including 128 PCIe 4.0 lanes, support for DDR4 memory operating at an effective frequency of up to 3200 MHz, and advanced security features.
The first AMD partners using two new processors were Dell Technologies and Supermicro. They chose these processors for the Dell EMC PowerEdge R6515, R7515, R6525, R7525 and C6525 servers, as well as for all Supermicro A + servers. The Supermicro Big Twin server is available in configuration with AMD EPYC 7532. HPE and Lenovo are also expected to release systems on new AMD EPYC processors in the coming months.