All Lessons
How to fix "You don't have permission to shutdown this computer" error
When a user tries to shut down or reboot their computer or laptop, they may get the error message "You don't have permission to shutdown this computer" . The error may sound in different connotations, but the meaning is the same: no rights, permissions or permissions to shut down or reboot the computer and may appear in Windows 10/8.1/7. The error will be shown in any way to shut down or reboot the computer – it is via command line, start menu or power button. In most cases, when you cannot shut down or reboot your computer, the error will appear in Windows 7. The culprit for this error is Adobe, which has updated and changed settings or Microsoft has delivered update curves for Windows 7. You can fix this issue through Group Policy or the Registry as there is no Group Policy in HOME Windows 10/8.1/7.
Guide to fix "You don't have permission to shutdown this computer" error
Step 1: Click the Win+R button combination and type gpedit.msc to open group policies. Go to "Computer Configuration" > "Security Settings" > "Local Policies" > "Security Settings" and on the right in the list find "Account Control: All Administrators are in Admin Approval Mode. Double-click on it and select Enable.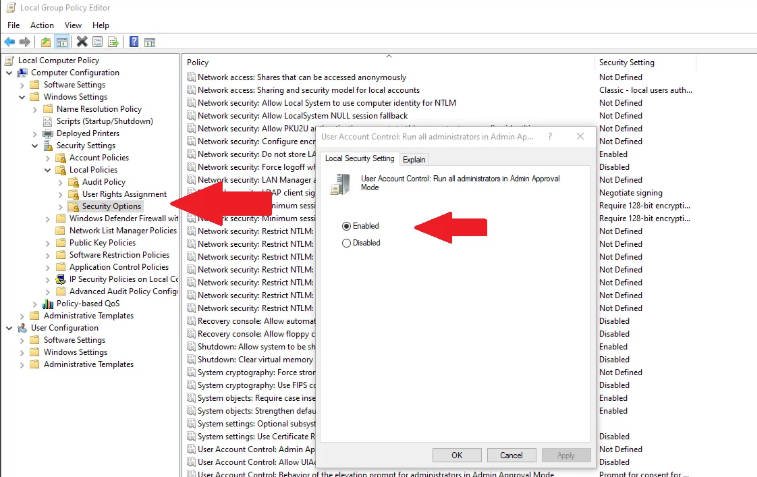 Step 2: Next, click Win+R and type gpupdate /force to update the group policy settings you have entered. Click Win+R again and enter shutdown -r to shut down the computer.
Note: If you cannot shut down your computer with the second command, kill the Explorer.exe process in Task Manager and restart it again.

Fix it via registry
Since Windows 10/8.1/7 HOME does not have group policies, we will do the same thing, but through the registry. Click Win+R and type regedit to open the registry editor. In the registry, browse the path:
HKEY_LOCAL_MACHINE\SOFTWARE\Microsoft\Windows\CurrentVersion\Policies\System
On the right, find the EnableLUA parameter, double-click on it and set the value to 1.
Note: Follow Step 2 as described above.