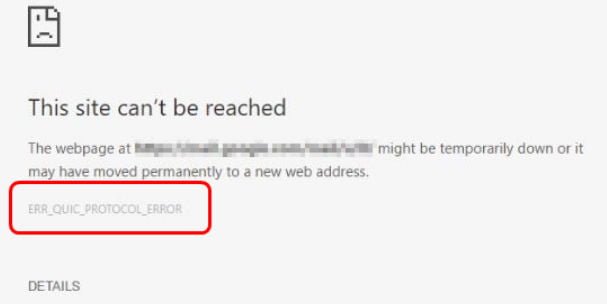 If you are unable to open any website and get an ERR QUIC PROTOCOL ERROR error message in Google Chrome or Yandex browser, then we will analyze several solutions that may be useful to you. The error message looks like this:
This site can't be reached. The web page at the address might be temporarily down  or it may have moved  permanently to a new address.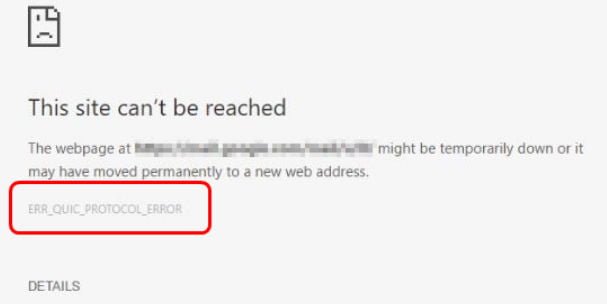 Related  post : Download vcomp110.dll and fix error in Windows 10/7 / 8.1
Methods to fix ERR QUIC PROTOCOL ERROR
1. Disable QUIC protocol to fix ERR QUIC PROTOCOL ERROR
QUIC is an experimental network transport protocol that is present in Google Chrome and the Yandex browser to establish a connection between two endpoints via UDP. If there is a problem on the side, then the probability of receiving this error message when opening any website in the browser is chrome and Yandex. Therefore, you can disable this experimental protocol in your browser and check if the problem is resolved.
Open your browser and enter Chrome chrome: // flags / for the browser Yandex browser: // flags in the address bar for the browser.
Then write in the Experimental QUIC protocol search and on the right side of this column you will see the value Default, which means default. You need to disable it by selecting Disabled.
Restart the browser and see if the problem is resolved.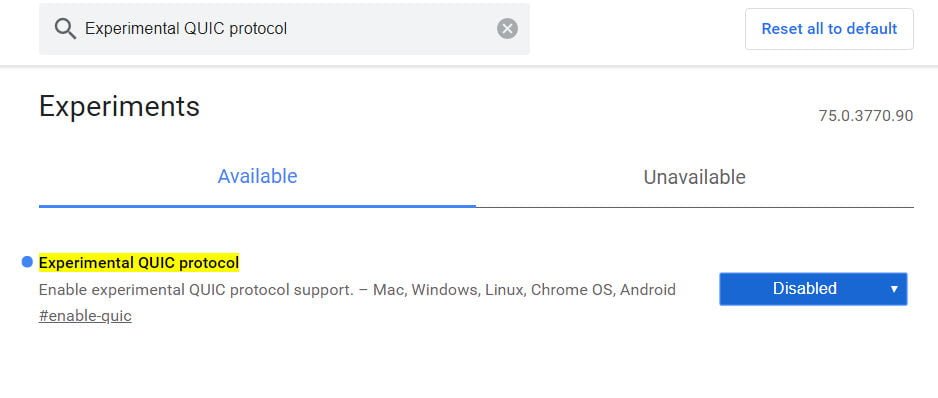 Related post : INTERNAL_POWER_ERROR on blue screen in Windows 10
2. Disable VPN / Proxy when connecting to your ISP
There are some Internet service providers that use a special method to distinguish between user accounts. For security reasons, they include a login prompt before the user can actually use the Internet. In this case, you need to enter a username and password to log into your account provided by your ISP. If you have this way, then you must first log in.
A simple workaround would be to disable your VPN or proxy by logging into your user account. If you are using an Internet provider for the first time and you do not have a username or password, you can ask your ISP if it has such a protocol or not.
Other Chrome Problems : 
FIX THE ERR_CACHE_MISS ERROR IN GOOGLE CHROME
ERR_TUNNEL_FAILED ERROR IN CHROME