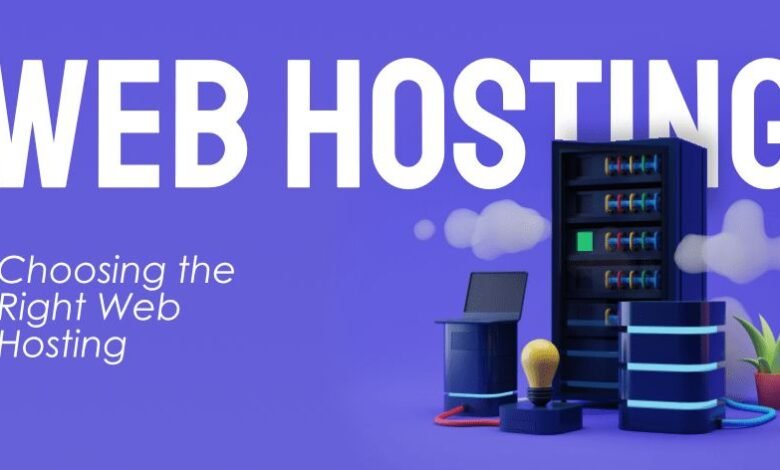 Tech News
How to Select the Perfect Web Hosting Company?
A website is a critical component for any business. For a business-oriented site, the server it's hosted on is even more critical. That's why it's crucial to carefully choose a hosting provider for your business website. Only a properly selected and reliable hosting provider can offer the most suitable server to host all your site's data.
On the other hand, choosing the wrong hosting provider can lead to many problems in the future. These problems range from poor site performance, low uptime percentage, or slow page loading speeds to data security issues. This can lead to unpleasant consequences for your business, such as a decrease in audience retention, an increase in bounce rates, and problems with search and advertising services.
Importance of choosing the web hosting properly
Incorrectly chosen hosting, as mentioned earlier, will bring nothing but problems to your website and business. Moreover, with a high probability, there will be many of them. On the other hand, correctly chosen hosting will provide numerous useful advantages that will help your site operate steadily and grow.
Website performance
Any hosting claims to provide users with perfectly functioning servers. But only verified and reliable providers confirm these claims in practice, ensuring fast loading speed, maximum uptime, and excellent stability for sites. This creates perfect conditions for a well-designed website, promoting conversion growth and reducing bounce rates.
Website and user data security
As in the previous case, only the most reliable hosting provides a truly high level of protection against various security issues. SSL certificates, firewalls, protection against cyberattacks, frequent backups – there are a whole variety of measures to protect the website in case of emergencies. And those measures will keep your business safe from suffering from reputational or financial losses due to unexpected events or malicious actions.
Cost-effectiveness
Expensive hosting is not always good. But the opposite is also rare. Therefore, you need to carefully evaluate the pricing of a particular provider. This includes not only the price for services and their transparency but also the presence of additional economical functionality such as providing a domain, etc. A correctly chosen hosting will be beneficial for your budget and allow you to save significantly in the long term.
Scalability
A good hosting for a business is one that perfectly suits the needs of a site. In the case of searching for hosting for complex websites, it is necessary to consider future growth and the provider's possibilities for increasing the volume of resources provided. And, of course, it is essential to take into account the possibility of doing it urgently in case of an unexpected increase in load due to a surge in visitors, for example.
Customer support
This may not be critical for many, although it should be. With round-the-clock and promptly operating support, you can count on a quick solution to various problems on the provider's side.
How to properly choose the web hosting
Choosing a provider itself is not a difficult task if you correctly determine the goals and objectives of the website, along with the hosting requirements. This is the most time-consuming task that requires a systematic approach. And it is this decision that can significantly affect how successful the site will be in the future.
Therefore, the first thing to start choosing hosting is to define the goals and tasks of the website, as well as the directions for further growth. At the same time, you will have to consider all possible variables, starting from the type and complexity of the site and ending with the size of the audience you aim to attract in the future.
It is also crucial to consider the uptime of hosting servers, as it will ultimately affect your website as well. The higher the uptime, the more time your website will be available to the audience. Ideally, the actual uptime value should be as close to 100% as possible, even though this number is practically unachievable due to the inevitable downtime during server maintenance.
The overall performance of the website should also be taken into account. Considering the fact that you are only choosing the very first hosting for your site, we are talking about how heavy in terms of active elements and web page code this website will be. This means that you will have to consider what resources the hosting provider must provide in order for the site to work at maximum quality of performance and provide users with a comfortable experience when visiting.
Measuring performance at its basics is quite simple. Because you won't know how your website will work before you launch it, it is easy to check hosting servers. For example, if you pick a hosting and use a reliable ping server – host-tracker.com/en/ic/ping-test to test its server network addresses at any moment, it should be instantly and quickly responding. Otherwise, it will be a really unreliable hosting.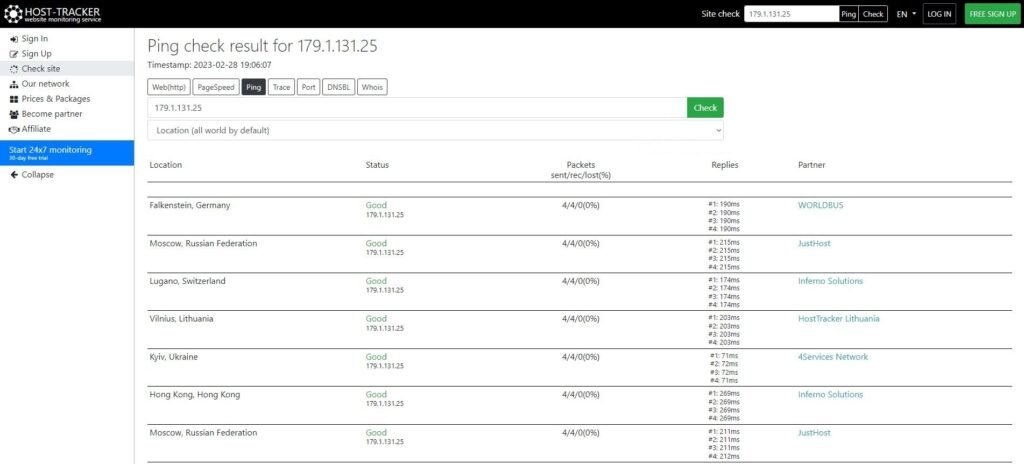 You should also not forget about security, which the hosting provider should provide to your website. Of course, if you are planning a one-page advertisement, you can ignore this issue. But if you are planning a large online store, you need the hosting to have quality protection against DDoS attacks, regular backups, firewalls, and various means to prevent user data leaks.
And finally, you need to take into account the cost of hosting services. This should be done only last, as often complying with all other requirements outweighs the lack of the need to pay more. And sacrificing quality for a lower price is never an option – as the saying goes, buying cheap is buying twice.
Importance of web hosting monitoring
When you have already chosen a provider and launched your website, it is important not only to work on its development but also to ensure continuous monitoring. Moreover, you need to monitor not only important metrics for site promotion but also general stability. Thanks to this, you will be able to easily solve any emerging problems quickly and easily.
First of all, uptime monitoring is a must for every website – too many various development and maintenance routines take it into account. Not to mention that this metric is crucial for search engines like Google and vital for website perception from users. Basically, uptime refers to the percentage between the site's overall existence time and the time that it is accessible to visitors. You can use uptime monitoring on host-tracker.com/en site monitoring service to track your website's uptime and receive alerts if it goes down.
But the list of tasks for monitoring is not limited to it. It also includes performance, loading speed, database integrity and many other checks and tests. Without this, it will be simply impossible to constantly maintain the site in a top and always working state.
Security is also a crucial consideration when monitoring your web hosting. It is vital to regularly scan your site for potential vulnerabilities and ensure that your web hosting provider is using strong security measures such as SSL certificates, firewalls, and regular backups. For this, you can use various tools along with website response checker 24\7 service at HostTracker.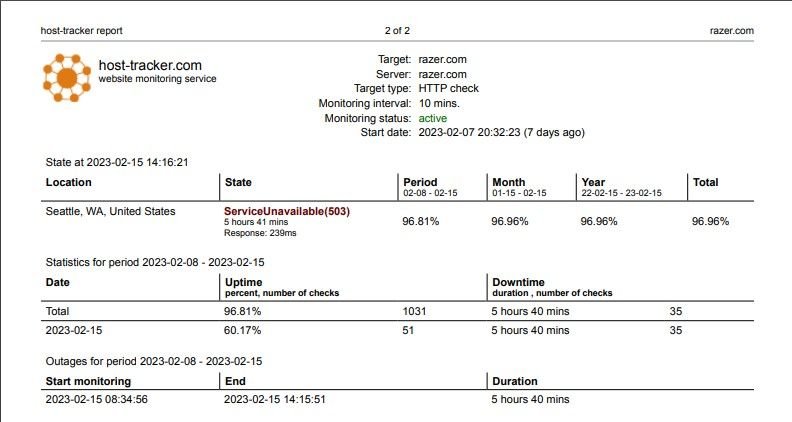 Web hosting backup plan importance
Considering the fact that a website is an important part of any online business, it's essential to make sure that everything will continue to work even in the event of unforeseen circumstances. You can never be sure that everything will go according to plan and that there will be no force majeure events that will make the site inaccessible to users.
To prevent data loss, hosting services offer website backup options. However, this is not enough if you need to ensure uninterrupted site operation in unforeseen circumstances. For this purpose, there is an additional option of a backup plan. This way, the site will continue to work even if the main data center is completely unavailable or destroyed due to a natural disaster, for example.
However, when agreeing on a backup plan with a hosting provider, it will be necessary to take into account how often the site is updated. This will determine the frequency of backup copies being saved on the backup server. Typically, providers offer daily, weekly, or monthly backups according to the specific needs of the website. And this already depends on the specific hosting provider you work with.
For this reason, if you really need this type of site backup, it's important to consider the availability and functionality of the backup plan service when choosing a suitable hosting provider. Otherwise, you risk being left without a working site and, in more complex cases, even without its backup copy. For example, if the main data center and the servers where your site and its backup were stored became completely inoperable for some reason.