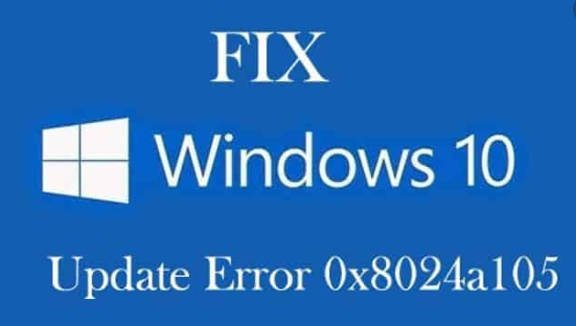 When you click on the "Check for updates" button in the update center, you may get an error code 0x8024a105 which means that there are problems with the automatic update components. Problems with installing updates can also occur without clicking the button when you simply go to the update center as they are installed automatically. Let's take a look at how to fix this problem.
How to fix error code 0x8024a105
1. Troubleshooting
Go to Settings > Update and Security > Troubleshooting > Windows Update
2. Checking system files
Corrupted system files may generate error code 0x8024a105 when trying to update. Run a command line and type below commands one by one, waiting for the process to finish, to recover the corrupted files, if any:
sfc /scannow

Dism /Online /Cleanup-Image /RestoreHealth
After checking, run the Windows Update Center and see if the 0x8024a105 error has been fixed.
3. Reset WU components
Step 1: Reset the automatic update components manually and recreate the catalogs. Run a command line as administrator and enter the commands one by one, pressing Enter after each:
net stop wuauserv
net stop bits
net stop cryptSvc
net stop msiserver
These commands will stop services associated with the update center so that we can rename the directories further. Do not close the command line and continue entering the commands from step 2 and step 3.
Step 2. Above we have stopped the services so that they do not interfere. We will now rename SoftwareDistribution and the Catroot2 folder to force the Windows Update Center to re-initiate the components.
ren C:\Windows\SoftwareDistribution SoftwareDistribution.old
ren C:\Windows\System32\catroot2 Catroot2.old
Step 3: Once we have renamed the directories above, the new folders will be created the first time we check the update center. Now we need to start the services that we stopped in step 1 back up. Enter it on the command line:
net start wuauserv
net start bits
net start cryptSvc
net start msiserver
4) Update the system with the Media Creation Tool
If the system is not updated and generates error 0x8024a105, then a reasonable solution is to update it through a special utility Media Creation Tool from Microsoft. Go to the official website and click "Update Now" to download the Update Assistant utility. Then run it and follow the on-screen instructions to update Windows 10.
5) Download and install the patch separately
If the above methods did not help eliminate the 0x8024a105 error code in the Windows Update Center, we can download the KB patch separately… and install it. To do this, please refer to the manual below.