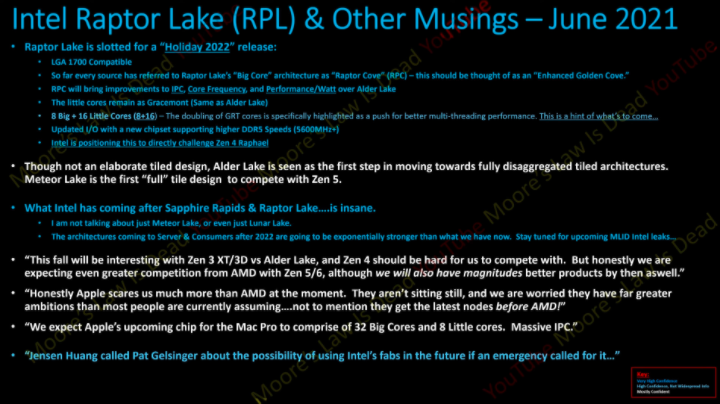 The YouTube channel "Moore's Law is Dead" has revealed new information about the upcoming Intel Alder Lake and Raptor Lake processor series for the LGA1700 socket. Intel will lift the embargo on Alder Lake on October 25, according to an insider. This probably means the date of the full announcement or some kind of preliminary event.
It is assumed that the first Alder Lake models on the market will be CPUs for enthusiasts with a K index and a thermal capacity of 125W. The desktop series will be presented in two configurations S1 (maximum 8 + 8 cores) and S2 (6 + 0 cores). As you can see, the second does not imply the use of small Gracemont kernels. A similar approach is being prepared for mobile chips with configurations P1 (6 + 8 cores), P2 (2 + 8 cores), and M (2 + 8 cores) with a power consumption of fewer than 10 watts.
High-performance processors for notebooks and other technology will become part of the Alder Lake-HX family. They will use desktop-grade system logic and CPU dies, come in BGA design, and have a configurable TDP from 45W to 65W. Surely Alder Lake-HX will form the basis of one of the future mini-PCs Intel NUC Extreme, and the release of such chips will take place no earlier than the second quarter of 2022.
The blogger also mentioned the successor to Alder Lake, the Raptor Lake family. Speaking about these processors, Moore's Law is Dead noted the following details: the transition to the Raptor Cove microarchitecture for large cores with a constant number (8 units), doubling the small Gracemont cores (up to 16 units), which in the output will allow creating 24-core desktop processors … The updated Raptor Cove microarchitecture will also bring increases in IPC, core clock, and performance per watt.