At the conference on the financial results of the previous quarter, the head of AMD Lisa Su announced not only plans to release a GPU with RDNA 2 architecture by the end of this year but also to update the range of graphic solutions Navi. The second statement immediately generated a lot of rumors and speculation regarding the upcoming rebranding of Radeon RX 5000 series video cards.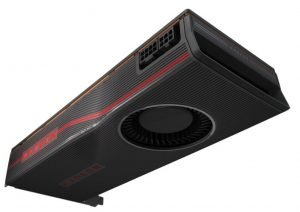 To dot every "i", the Tom's Hardware web resource turned directly to AMD representatives. They made it clear that Ms. Su did not mean the release of the updated (English Refreshed) Radeon RX 5000 models, but the update of the Navi GPU product line. We talked about accelerators with 2nd generation RDNA architecture, including the so-called "big Navi" – a video card that can challenge the top-end GeForce RTX.
It is fair to say that in the past AMD repeatedly resorted to "half measures", releasing an old product with improved frequency characteristics under a new name. A good example is the line of Radeon RX 500 video cards. Thanks to the transition to the 12-nm process technology, the "red" managed to significantly increase the frequencies of the Polaris GPU, while the video core structure remained unchanged. The current AMD Navi GPUs are not in danger.