Surely you met the WDAGUtilityAccount account in Windows 10 when you opened Local Users or, if you type in the command line, the net user command. What is it? Virus? What is the role of this account? Let's take a look.

Related post : How to delete the Windows.old folder
WDAGUtilityAccount (Windows Defender Application Guard UtilityAccount) is a system account that is managed and used by Windows Defender Application Guard. The account is disabled if the Application Guard option for Windows Defender is not enabled. If the account is working, this may cause a warning when you try to delete the file that "Access is denied, administrator permission is required" or "You need permission of another account – WDAGUtilityAccount".
According to Microsoft, when WDAG is turned on and a user visits a virus site that can attack your PC, this site opens in a separate container based on virtualization. If a vulnerable website attacks, then these attacks will not succeed because it is open in a container based on virtualization.
You can check if WDAGUtilityAccount is active on your system. For this:
Press Win + X and select "Computer Management".
Expand Utilities, Local Users, Users.
Next on the right side of the list, click on WDAGUtilityAccount to open the properties.
You will see the "Disconnect account" item.
The WDAGUtilityAccount account is a system account and it is not recommended to disable it. This is done for your own safety.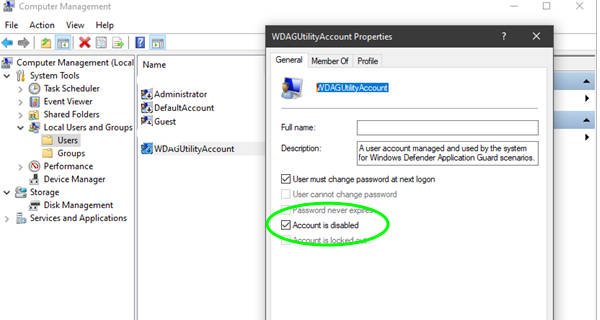 Related post : What is Perflogs folder in Windows 10