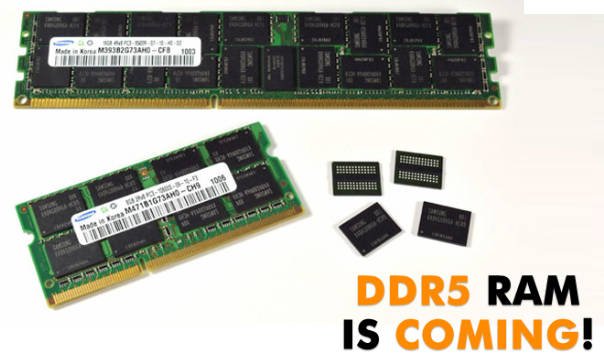 The JEDEC Solid State Technology Association approved the final DDR5 RAM specification (Double Data Rate 5). When compared to DDR4, the new RAM type will bring the traditional increase in bandwidth, reduced power consumption and increased module capacity. The Committee has designated JESD79-5 as the new standard.
DDR5 specifications provide for the release of 64 Gbit (8 Gbytes) DRAM chips, which will allow 128 Gbytes of UDIMM modules, and in the case of server LRDIMMs, the limit capacity will increase to 2 Tbytes. The effective frequency of the new boards will be up to 6400 MHz, however, the commercial release will start with less high-speed DDR5-4800. As production improves, DDR5 overclocking modules beyond JEDEC specifications will be available.
DDR5 racks use 288 contact pads, as in the case of DDR4, but the keys will be located differently, which will not install the module in the wrong slot. The supply voltage will be reduced to 1.1V. One more difference from DDR4 is that it uses two 32-bit buses (or 40-bit for ECC) instead of one 64-bit one.
Samples of DDR5 chips are already coming off the conveyors of leading DRAM manufacturers such as Micron and SK Hynix. Active use of the new type of RAM will begin in a year and a half. It is expected that AMD will migrate to DDR5 along with the release of Zen 4 processors, while Intel will add support for the new modules to Sapphire Rapids server chips for the Eagle Stream platform (LGA4677), the release of which is scheduled for next year.