You probably tried to control the permissions of certain files, folders, or frequently browse the Windows registry, it may seem that you have seen some string values ​​of type S-1-5-21-281723897-98365329832-7382047462- 600. These values ​​are known as security identifiers or SID . Let's take a look at what a user's SID is in Windows 10 and how to find it out.
What is the user SID in Windows?
The security identifier or user SID in Windows 10 is the only meaningful value that identifies a security principle or security group in Windows. Therefore, we can say that the user SID in Windows 10 is similar to a passport that is assigned to each computer during the installation of the operating system. In addition, this identifier can be useful during the execution of certain commands related to the security of our computer, so let's look at how to find out the user's SID in Windows 10.
How to find out the user's SID in Windows using cmd
One of the fastest ways to find out the SID user ID in Windows 10 is to use the command line. Open a command prompt and enter below the commands that meet your requirements.
Currently used SID name: type whoami / user and press Enter.
SID name of a specific user: enter wmic useraccount where name = "user" get name, sid in the command line. Where "troyan" is the actual username.
All user SIDs in Windows: enter wmic useraccount get name, sid.
Related post : WHAT IS SYSTEM32 FOLDER IN WINDOWS AND MAY I DELETE SYSTEM32 FOLDER
Find out the user SID in Windows through the registry
Press Win + R and type regedit in the dialog box, then press Enter.
In the registry, copy / paste or browse to HKEY_LOCAL_MACHINE \ SOFTWARE \ Microsoft \ Windows NT \ CurrentVersion \ ProfileList.
Below the ProfileList value, you will see all users and their SIDs.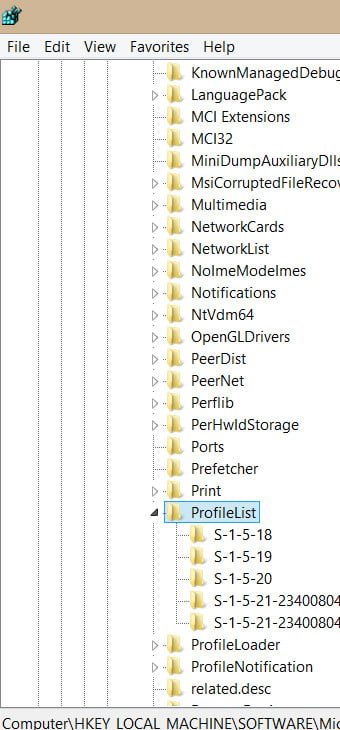 Related post : WHAT IS THE DLLHOST.EXE COM SURROGATE PROCESS IN WINDOWS 10,8,7?