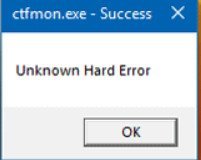 If you encounter a Ctfmon.exe Unknown Hard Error error in Windows 10 and do not know what it is or how to fix the problem, then you are in the right place. This problem arises mainly due to the use of memory, especially during the game. This can also happen due to slow data processing in the system, faulty, outdated or incompatible drivers present on the computer. What is Ctfmon.exe? – it is a background process that works to recognize language speech, handwriting and other user input services, such as pen, tablet, etc. This indicates that there is damaged or missing software in your operating system, which makes it difficult causing an error. Let's look at the most likely solutions for the error Ctfmon.exe Unknown Hard Error.
Methods to fix Fix Ctfmon.exe in Windows 10
1. Clean boot in Windows 10
Safe boot is very convenient for diagnosing startup without a third-party service, which can lead to Unknown Hard Error in Windows 10. Before doing this, make sure that you are logged in as an administrator. Not to write again, follow the guide below:
2. Remove recently installed applications in Windows 10 to fix ctfmon.exe
If you have this problem after installing a new software, you can uninstall this particular application and reinstall it later to check if it does not cause this error. Type in the search for start "Control Panel" and open, then click on "Uninstall a program". In the list that opens, find by date and time, recently installed applications that you suspect as the culprit of the error and delete them.
3. Detection of damaged system files
Windows 10 may have a damaged or faulty file that causes Unknown Hard Error error. To restore system and damaged files, run a command prompt as an administrator and enter the following sfc / scannow command.
4. Check hard disk for errors
If you have applied the above process, and the problem remains on the computer, you can check the hard drive. A bad hard drive may cause Unknown Hard Error. To fix errors on your hard disk, open a command prompt as an administrator and enter the command chkdsk / f / r.
Complete Hard Drive Recovery Guide

Related post : How to enter the safe mode of Windows 10
5. Update drivers
Unknown Hard Error may occur if faulty or outdated drivers are installed on the system. Incompatible Windows drivers can create various problems, such as not working Bluetooth, a problem with a touch screen, no Wi-Fi, a blue screen of death, etc. It is therefore always useful to update installed drivers to avoid such problems. To do this, you need to update all the drivers in Windows 10 at the same time. To do this, go to "Settings"> "Update and security"> "Windows Update"> and click on "Check for updates".
Windows will automatically select the drivers and install them, if any driver is not installed, then you need to go to the official website of the device manufacturer and download it. You can also see which drivers are missing and not installed in the "Device Manager" and update them. See below guide.